Prepare for British Summer Time to begin with, Astreea Igloos.
As of March 28th, British Summer Time begins. The days feel longer, the evenings get lighter and more than ever, people are ready to socialise. Every year, summer marks the beginning of busy beer gardens. Outdoor seating becomes the go-to. But we can never rely on the British weather to work with us. As we know all too well, you can make your plans for your outdoor dinner dates, and within seconds, plans are ruined by an unexpected downpour!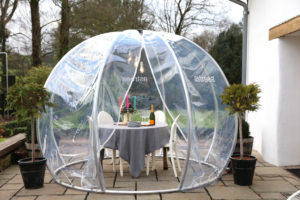 In the current economic climate, it is a priority for hospitality venues to pull in customers and provide them with an enjoyable dining experience. At Astreea we understand that providing customers with outdoor seating is not as simple as a table and chairs, not with our unpredictable British weather. That's where our Astreea Igloos comes in. The 360° weatherproof bubble gives you somewhere warm and dry for customers to eat outside and will entice visitors to choose your venue over others.
Robust and reliable, the Astreea Igloo was designed and built in an aerospace factory. So, when we say it's made of the highest quality materials, you can believe it is. Weigh it down or bolt it to the floor, our Igloo is built to last and comes with a 2-year guarantee.
To keep it easy we've included delivery in the pricing, it will take 2-3 working days to get them to you and our agent will ring to book a convenient time for you.
Follow us on socials to stay up to date with the upcoming product launches from Astreea.