Dining outside just got warmer, drier, and more stylish thanks to the new Astreea Igloos! The Igloos from Astreea are the new way to dine outside while also keeping cover from the winter weather. The Astreea Igloo is a weatherproof bubble designed for outside use to protect your customers from the elements. Bring the outside, in.
The Astreea Igloo isn't just any ordinary outdoor cover, made in a European aircraft factory the frame is made entirely from aerospace aluminium, meaning it's built to last. It can be bolted to the floor or can be weighed down to withstand strong weather conditions. But this doesn't mean the Astreea Igloo compromises on style. Transparent PVC and Philips lighting make the igloo a cosy, dry, and a fun environment to spend time with loved ones. Assembly is extremely simple and can be carried out by 2 people in less than an hour and is as simple as build, plug and go!
There are two sizes available to suit smaller and bigger households. The medium Igloo can sit 4-6 people and the large igloo 6-10. For more sizing info, check out the product listings. Don't let strong weather conditions keep you from enjoying the igloo, either bolt the pod to the floor or use the weights to hold it down. Lockdown 3.0 just got way more exciting!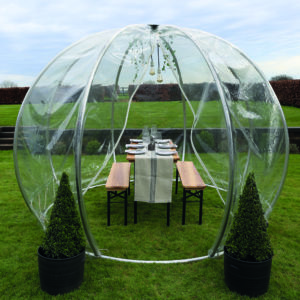 To keep it easy we've included delivery in the pricing, it will take 2-3 working days to get them to you and our agent will ring to book a convenient time for you.
Follow us on socials to stay up to date with the upcoming product launches from Astreea.