Astreea Igloos at GLEE 2021
Astreea Igloos attended GLEE 2021 at the NEC in Birmingham on 14th-16th September. Glee is the UK's leading garden and outdoor living trade show, presenting the most exciting brands, innovative products and inspiring garden retail insights.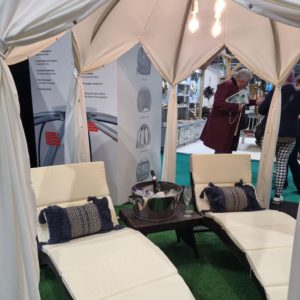 Astreea presented their outdoor domes and were met with positive reactions from attendees and exhibitors.
John Williams, Astreea's Account Manager comments, 'We were lucky to be able to attend the hotly anticipated event, due to the pandemic it has been postponed a few times. We were surprised that we were the only company featuring a semi-permanent dome structure at the event and were greeted with such a positive response!'.
Astreea Igloos are available online and through many resellers.
To keep it easy we've included delivery in the pricing, it will take 2-3 working days to get them to you and our agent will ring to book a convenient time for you.
Follow us on socials to stay up to date with the upcoming product launches from Astreea.